Background info: I've been training according to SS for about 3 months by now. I gained 40 pounds, got my body fat rate from 10% to 20%, increased my squat and deadlift by 60 pounds approximately. I now weigh 180 pounds and have lower back stiffnes and hip pain.
So I got my MRI results today. They look like this: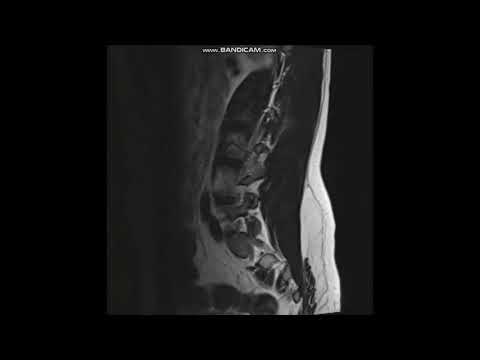 I'll do my best with translating what the othopedist told me, since my native language is not English: "You have a diffusely bulging disc at L5-S1 and anterior straightening at the dural sac."
I was terrified. He then redirected me to a brain surgeon. The brain surgeon took a look at the MRI and told me that I don't have much to worry about and the orthopedist was exaggerating. I don't know if he told so just because I was looking very terrified or if it was the case though. He also told me that my back muscles had a spasm and that I should rest, swim and do some core exercises.
I believe that either the squats or the deadlifts caused this since my form is very questionable. Terrible at times, especially with the low-bar squat.
So the question is, how bad is my back looking at these MRIs and what should I do? My lower back stiffnes and right hip pain are still here, so I won't train for a while. After that, would switching to high-bar squats help?