Hello all-
My squat form sucks. I know it sucks, and I have been working to improve it. I think it's gotten better some through some trial and error and self-checking, but I still have some work to do on it so here I am. Video below of a set of 4 pause squats (which is probably not as good as competition squats I guess for form checking, but it's the most recent video I have) from today.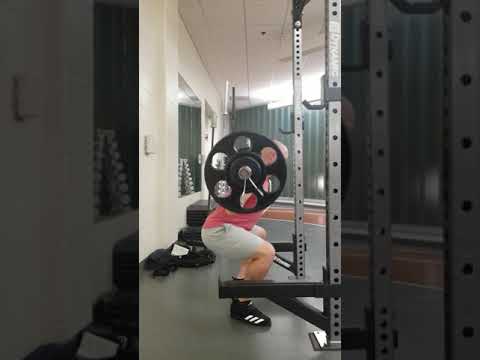 Things I see that seem to be problems (correct me if I'm wrong)-
-Rocking forward out of the hole: this has always been my biggest issue. I have improved on it some, but I still do it to a lesser degree and would like to get rid of it.
-A little bit of butt winking, especially on the first 2 reps (I think I felt myself doing it early on in the set and consciously tried to stay tight at the bottom for the 3rd and 4th reps).
-This one I am less certain about, but it seems to me that my knees are staying out over my toes for too long on the ascent. I don't know if this is more of a symptom or a cause, but when I watch people squat with good form it seems like their knees come back under their center of mass quicker on the ascent than mine do.
I would love to hear from others on this stuff and some suggestions on what I need to focus on to fix this. I have watched much of Alan Thrall's squat form videos, including the "Common Squat Errors" video with Austin, and I believe they have helped me, but I think I'm at the point where I need instruction specific to me to figure this out. Thanks in advance!